January 22, 2009 2:02 am
Here's one for all the people who make a big deal about not using bolt-in cages in drift cars.
The first corner at Bihoku Highland Circuit is bordered by a steep dirt wall with stacks of tyres in it. Usually, the tyres cop it if someone strays a bit too far off the proper line when they initiate, but someone the dirt sees a bit of action too.
I was walking behind the judging tent when it happened, so when I pulled back the zoom to catch more of the action, the autofocus caught onto the foreground and made the rest of the photos out of focus, which kind of sucked.
The car actually jumped up the dirt hill, did a half-spin in mid air and landed square on the roof from over a meter up, then spun around a couple of times before stopping.
That "circle" sign being made by the guy in the background means "everything is OK".
The driver (tired-looking guy in blue overalls) was fine.
Not a very happy picture, but at least his TE37s are OK.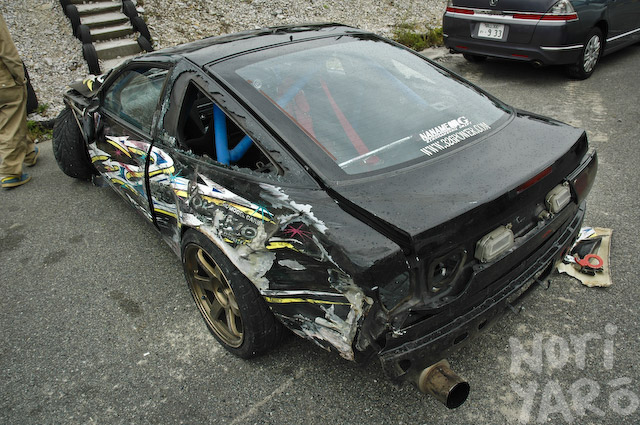 Tags: 180SX, Bihoku Circuit, Nissan


Categorised in: Crash クラッシュ

This post was written by Alexi